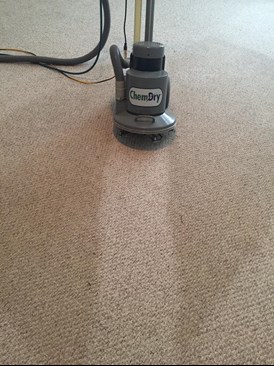 When you're looking for carpet cleaning in the Indianapolis area, you can count on Chem-Dry by Kevin Jones. We're a professional carpet cleaning service that provides a deeper, longer lasting clean and a healthier home. And, and independent lab has proven Chem-Dry removes 98% allergens. We are the Deeper Greener Carpet Cleaner for our customers in Avon, Carmel, Brownsburg, Fishers, Geist, Indianapolis, Lebanon, Plainfield, Martinsville, Mooresville, Noblesville, Whitestown, Zionsville, Indiana that we serve have become long-time, satisfied clients. You can trust our professionally-trained, hard-working and friendly technicians to understand your specific needs and provide a cleaner, healthier home.
Our Carpet Cleaning Process
Our innovative Hot Carbonating Extraction Process uses the natural power of carbonation to achieve a deeper, longer-lasting clean. Millions of tiny bubbles are sent deep into your carpets to loosen dirt, grime, and non-living allergens, then lift them to the surface where they are whisked away by our powerful extraction equipment. This is all done using around 80% less water than traditional steam cleaning, which results in faster dry times and less risk of mold or mildew growth due to wet carpets.
Chem-Dry Green Certified Cleaning Solution

The heart of our carpet cleaning process is a Chem-Dry Green Certified solution called The Natural®. Unlike the harsh chemicals and soapy detergents that other cleaners often rely on, our core cleaner is based on ingredients copied from Mother Nature and is one of the purest carpet cleaning solutions available. You can trust Chem-Dry to deliver a deeper clean that is safe for your entire family.
Remove Stubborn Odors from Carpets
From cooking to pets, your home is filled with odors that get trapped in the fibers of your carpet. Unfortunately, many of these odors can linger even after a professional carpet cleaning. Don't worry, Chem-Dry has a solution! An application of our Fresh-n-Free™ deodorizer attacks odors in multiple ways, ensuring that even the toughest odors are knocked out.
Our deodorizer causes chemical reactions that neutralize odors and also entraps odor molecules to easily extract them during our Hot Carbonating Extraction cleaning process. With this approach, odors aren't just masked – they're eliminated, leaving nothing behind but clean and fresh carpet.
If you have pets, you know that pet urine accidents are particularly pungent and typically require specialized treatment. Our revolutionary Pet Urine Removal Treatment (P.U.R.T.®) is unmatched in the carpet cleaning industry. Other cleaners often simply mask the odors with perfume, but an application of P.U.R.T. has been tested and proven to remove 99.9% of pet urine odors from carpets. Visit our Pet Urine Removal page to learn more about this service.

Don't forget, when it comes to the best carpet cleaning in Indianapolis, Chem-Dry by Kevin Jones is your best choice. Our goal is to provide you with a clean and healthy home. Our hope is that you become a long-time client for years to come and trust us to become your Healthy Home Authority.

Read What our Customers are Saying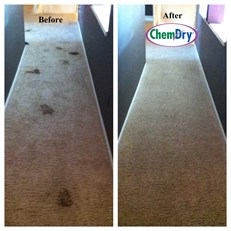 Cindy wrote on Google: "The young man that came and did our service was great. He explained the needed treatments perfectly and did a wonderful job. We will definitely be calling for the to return when we need it again."
Bonnie wrote on Facebook: "Rob was on time, friendly and professional. He did an amazing job with our carpets. All of the spots I was concerned about, he handled effortlessly. I felt comfortable with him in my home and I am very pleased with the results. It was obvious that he takes pride in his work."
My husband and I agreed that this was the BEST carpet service we have EVER received
Julie wrote on Google: "Very responsive- super honest, really knows what they are doing! Highly recommend."
Terri wrote on Google: "I am so impressed with Chem-Dry! I had a soda pop stain in my carpet for over 4 years in which I had professionally cleaned by another company but the stain would always return after a couple of weeks. It has now been over two months and there is no stain after having Chem-Dry clean it. My carpet looks great! The service man, Taylor, was on time, very polite and well informed on their products. I will definitely recommend this company and continue to use them. Their receptionist, Tina, was also very helpful and patient with all my questions. Thank You Chem-Dry!"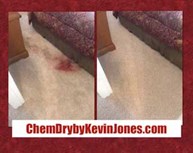 Mindy wrote on Google: "Service was excellent! My technician went above and beyond my expectations. Carpets look great. Scheduling was super easy too! Will definitely use them again!"
Eva wrote on Facebook: "Came the next day after I called! Fast & Professional. My carpets look fabulous. Very affordable. I am very happy. Chen Dry leaves very little water in carpet. Watch their video, it makes perfect sense. I won't ever go back to wand cleaners again.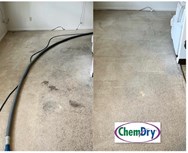 Lucy wrote on Google: "My service tech did an amazing job! Really thought the carpet was beyond redemption. Even the realtor was stunned about the before and after look. Tech was friendly, polite, thoughtful, quick and on time. Extremely pleased."
Debbie M wrote on Google: "We have tried several other companies and have never been as pleased with the results as we were with Chem-Dry. Our carpet is 24 years old so we weren't expecting miracles, but it looks and smells fantastic. Caleb was polite and informative. I would highly recommend the pet stain and odor treatment if you have pets. The results were amazing. I have found my go to company for carpet cleaning and won't use anyone else ever again"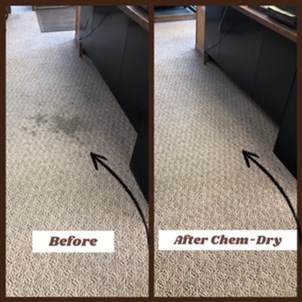 Jean D wrote on Google: "Fast, efficient service with excellent results!
Pricing broken down from basic cleaning, carpet protection, carpet sanitizing as well as special spot cleaning for pets. No pressure to choose one over the other. Our service rep was very knowledgeable about the type of carpet we have, and how best to maintain it in good, long lasting condition.
We are extremely satisfied and highly recommend."
Julie J wrote on Facebook: "Scheduling was a breeze and the technician was actually running ahead and they called to see if I would like them to come about an hour early - YES! This was a gift for my son and daughter in law. Everything looks and smells great! Our tech was friendly and very thorough, explaining everything he would be doing. I definitely recommend and am already planning to call them again - this time for my house!"
Maryanne S wrote on Google: "Called said be there at 11 WAS!!! Very professional - carpet looked GREAT although it took till morning for it to be totally dry!! No complaints will use them again"
Businesses We've Cleaned in the Indianapolis area:  Shirley Brothers Mortuary, Grace Pointe Child Development,  The Children's Village, Sunrise Christian Academy, Holy Angel's Catholic School, Cuddle Kiddies Child Care,Fluid Handling, Cair Heating & Cooling, and Kraft Commons Assisted Living