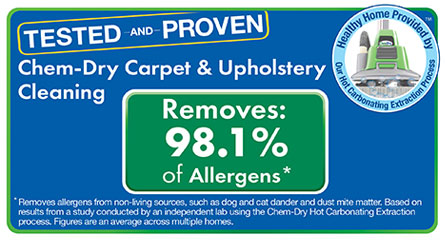 Carpet Cleaning Indianapolis
When you're looking for carpet cleaning in the Indianapolis area, you can count on Chem-Dry by Kevin Jones. We're a professional carpet cleaning service that provides a deeper, longer lasting clean and a healthier home. And, and independent lab has proven Chem-Dry removes 98% allergens. We are the Deeper Greener Carpet Cleaner for our customers in Avon, Carmel, Brownsburg, Fishers, Geist, Indianapolis, Lebanon, Plainfield, Martinsville, Mooresville, Noblesville, Whitestown, Zionsville, Indiana that we serve have become long-time, satisfied clients. You can trust our professionally-trained, hard-working and friendly technicians to understand your specific needs and provide a cleaner, healthier home.
The Process
Chem-Dry provides a deeper, longer-lasting, healthier carpet cleaning experience. Typical steam cleaning services use an excessive amount of water, which results in a much longer dry time and can lead to mold and mildew growth at the base of your carpets. Our proprietary Hot Carbonating Extraction cleaning process uses about 80% less water than steam cleaners and gets better results. Using a Chem-Dry Green Certified carbonated cleaning solution that's heated to over 200 degrees, millions of tiny bubbles penetrate to the base of your carpets to lift dirt, grime, dust and other allergens to the surface. Then our powerful extraction equipment removes these unhealthy elements along with the most of the water. So your carpets are dry in 1-2 hours with Chem-Dry, compared to 1-2 days with most steam cleaners!
Your Home
We know you have a choice when it comes to carpet cleaners near your home. We promise to treat your home, your family and your pets with the courtesy and care you deserve. Our friendly, professionally-trained technicians understand that getting ready to have your carpets cleaned is a big deal, and they take pride in delivering superior, healthier results for your family and your home.
Tested and Proven Superior Results
Our Hot Carbonating Extraction (HCE) process was tested by a leading independent air quality laboratory in multiple homes. The lab found that Chem-Dry removes an average of 98.1% of common household allergens from carpets and upholstery. The common allergens tested were dog and cat dander and dust mite matter.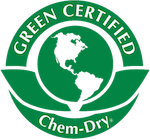 Chem-Dry's signature cleaning solution, The Natural®, is a cleaning mixture that, through the power of carbonation, lifts dirt and grime to the surface where it is whisked away. The Natural is Chem-Dry green-certified, safe and non-toxic so it's ideal for homes with kids and pets.
You can trust our deeper-cleaning, healthier carpet cleaning service to meet your needs and exceed your expectations. Chem-Dry is preferred by customers and professionals alike. The Carpet and Rug Institute (CRI) designated Chem-Dry as a company deserving of the CRI Seal of Approval for our innovative and unique hot carbonating system. This program identifies effective carpet cleaning solutions and equipment that clean carpet right the first time and protect a home or commercial facility's carpet investment. The blue and green CRI Seal of Approval is proof that you are investing in a proven, high quality service.

Don't forget, when it comes to the best carpet cleaning in Indianapolis, Chem-Dry by Kevin Jones is your best choice. Our goal is to provide you with a clean and healthy home. Our hope is that you become a long-time client for years to come and trust us to become your Healthy Home Authority.

Read What our Customers are Saying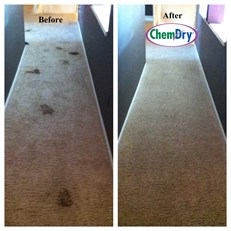 Cindy wrote on Google: "The young man that came and did our service was great. He explained the needed treatments perfectly and did a wonderful job. We will definitely be calling for the to return when we need it again."
Bonnie wrote on Facebook: "Rob was on time, friendly and professional. He did an amazing job with our carpets. All of the spots I was concerned about, he handled effortlessly. I felt comfortable with him in my home and I am very pleased with the results. It was obvious that he takes pride in his work."
My husband and I agreed that this was the BEST carpet service we have EVER received
Julie wrote on Google: "Very responsive- super honest, really knows what they are doing! Highly recommend."
Terri wrote on Google: "I am so impressed with Chem-Dry! I had a soda pop stain in my carpet for over 4 years in which I had professionally cleaned by another company but the stain would always return after a couple of weeks. It has now been over two months and there is no stain after having Chem-Dry clean it. My carpet looks great! The service man, Taylor, was on time, very polite and well informed on their products. I will definitely recommend this company and continue to use them. Their receptionist, Tina, was also very helpful and patient with all my questions. Thank You Chem-Dry!"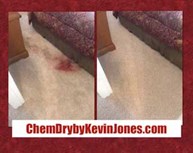 Mindy wrote on Google: "Service was excellent! My technician went above and beyond my expectations. Carpets look great. Scheduling was super easy too! Will definitely use them again!"
Eva wrote on Facebook: "Came the next day after I called! Fast & Professional. My carpets look fabulous. Very affordable. I am very happy. Chen Dry leaves very little water in carpet. Watch their video, it makes perfect sense. I won't ever go back to wand cleaners again.
Lucy wrote on Google: "My service tech did an amazing job! Really thought the carpet was beyond redemption. Even the realtor was stunned about the before and after look. Tech was friendly, polite, thoughtful, quick and on time. Extremely pleased."
Debbie M wrote on Google: "We have tried several other companies and have never been as pleased with the results as we were with Chem-Dry. Our carpet is 24 years old so we weren't expecting miracles, but it looks and smells fantastic. Caleb was polite and informative. I would highly recommend the pet stain and odor treatment if you have pets. The results were amazing. I have found my go to company for carpet cleaning and won't use anyone else ever again"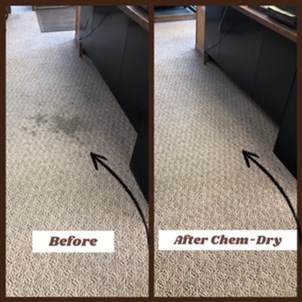 Jean D wrote on Google: "Fast, efficient service with excellent results!
Pricing broken down from basic cleaning, carpet protection, carpet sanitizing as well as special spot cleaning for pets. No pressure to choose one over the other. Our service rep was very knowledgeable about the type of carpet we have, and how best to maintain it in good, long lasting condition.
We are extremely satisfied and highly recommend."
Julie J wrote on Facebook: "Scheduling was a breeze and the technician was actually running ahead and they called to see if I would like them to come about an hour early - YES! This was a gift for my son and daughter in law. Everything looks and smells great! Our tech was friendly and very thorough, explaining everything he would be doing. I definitely recommend and am already planning to call them again - this time for my house!"
Maryanne S wrote on Google: "Called said be there at 11 WAS!!! Very professional - carpet looked GREAT although it took till morning for it to be totally dry!! No complaints will use them again"
Businesses We've Cleaned in the Indianapolis area:  Home Place Senior Apartments, Shirley Brothers Mortuary, Grace Pointe Child Development,  Church of the Nazarene, The Children's Village, Sunrise Christian Academy, Holy Angel's Catholic School, Cuddle Kiddies Child Care, Bill Estes Chevy, Indiana State Fairgrounds, Power Home Solar, Fluid Handling, Kahn's Fine Wine.