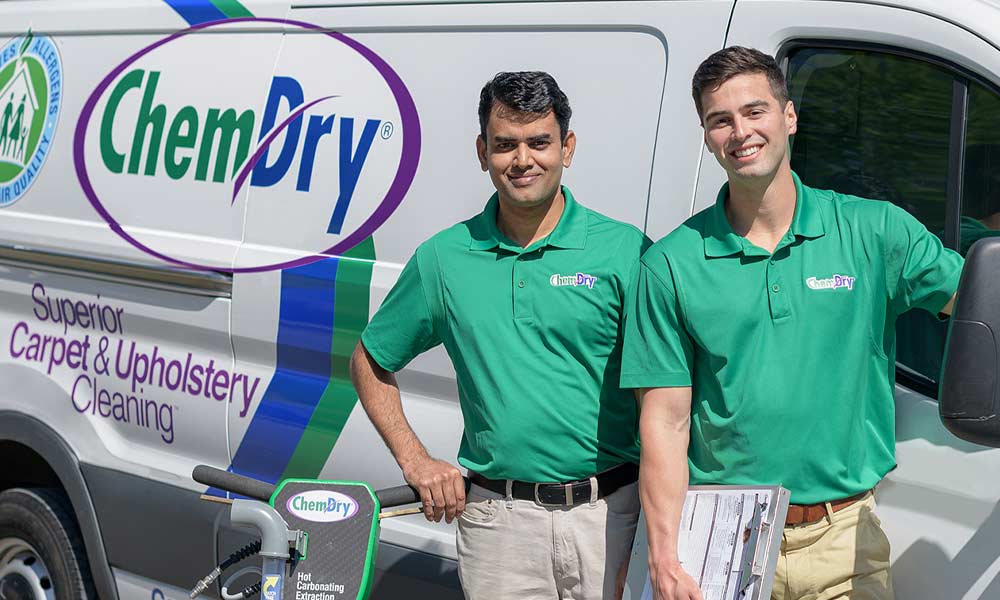 Chem-Dry by Kevin Jones has been cleaning Carmel, IN  since 1995 and we have the best approach to carpet cleaning while removing 98% allergens.  Chem-Dry by Kevin Jones uses the power of carbonation to extract more dirt and grime from your carpets, giving them a deeper clean. As well, our carbonated cleaning only requires us to use a fraction of the moisture steam cleaning requires. This allows your carpets to dry quicker with green cleaning solutions and proven results.
The Process
Chem-Dry provides a deeper, longer-lasting, healthier carpet cleaning experience. Typical steam cleaning services use an excessive amount of water, which results in a much longer dry time and can lead to mold and mildew growth at the base of your carpets. Our proprietary Hot Carbonating Extraction cleaning process uses about 80% less water than steam cleaners and gets better results. Using a natural, green-certified carbonated cleaning solution that's heated to over 200 degrees, millions of tiny bubbles penetrate to the base of your carpets to lift dirt, grime, dust and other allergens to the surface. Then our powerful extraction equipment removes these unhealthy elements along with the most of the water. So your carpets are dry in 1-2 hours with Chem-Dry, compared to 1-2 days with most steam cleaners!
Your Home
We know you have a choice when it comes to carpet cleaners near your home in Carmel. We promise to treat your home, your family and your pets with the courtesy and care you deserve. Our friendly, professionally-trained technicians understand that getting ready to have your carpets cleaned is a big deal, and they take pride in delivering superior, healthier results for your family and your home.
Tested and Proven Superior Results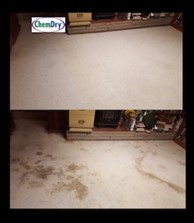 Our Hot Carbonating Extraction (HCE) process was tested by a leading independent air quality laboratory in multiple homes. The lab found that Chem-Dry removes an average of 98.1% of common household allergens from carpets and upholstery. The common allergens tested were dog and cat dander and dust mite allergen.
The Natural Cleaning Solution
Chem-Dry's signature cleaning solution, The Natural®, is a cleaning mixture that, through the power of carbonation, lifts dirt and grime to the surface where it is whisked away. The Natural is green-certified, safe and non-toxic so it's ideal for homes with kids and pets.

You can trust our deeper-cleaning, healthier carpet cleaning service to meet your needs and exceed your expectations. Chem-Dry is preferred by customers and professionals alike. The Carpet and Rug Institute (CRI) designated Chem-Dry as a company deserving of the CRI Seal of Approval for our innovative and unique hot carbonating system. This program identifies effective carpet cleaning solutions and equipment that clean carpet right the first time and protect a home or commercial facility's carpet investment. The blue and green CRI Seal of Approval is proof that you are investing in a proven, high quality service.
Read What Our Customers Are Saying:

Mary wrote on Google: "I have used Chem-Dry several times- I can count on quality work- everything looks great!'
Did You Know this About Carmel, IN?
Interesting facts about Carmel, IN is that it was the first home of an electronic, automated traffic light in the state of Indiana. And yet today, Carmel has constructed some 128 roundabouts since 1998 earning it the title "Roundabout Capital of the U.S." We are proud to be driving on your streets Carmel with our Chem-Dry vans! Chem-Dry by Kevin Jones is your best choice as we have been cleaning Carmel for over 25 years. Our goal is to provide you with a clean and healthy home. Our hope is that you become a long-time client for years to come! 
Carmel Business Chem-Dry by Kevin Jones has Cleaned include: Platform 24, Brava's Intelligent Spaces,
When you need to replace rather than clean, local Carmel Carpet Retailers include: Blakley's Flooring, Floor Coverings International,  Jack Laurie Home Floor Designs,  Outback Steakhouse Carmel,  A Sewing Studio, Charleston's Restaurant Carmel, and Kurr Med Spa,
Cleaning zip codes in Carmel, IN 46032 and 46033
Get Your Quote Today!
Click below to schedule your cleaning appointment immediately. With our real-time booking, you can schedule your cleaning appointment 24/7 on your time. Proud to be your Healthy Home Provider in Carmel!