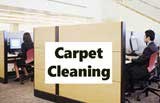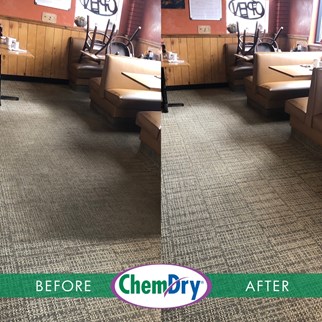 Carpeting is in most commercial settings. And add cubicles and workstations, fabric can cover a lot of area at your business. Chem-Dry's Hot Carbonating Extraction cleaning method uses the natural cleaning power of carbonation to lift dirt and grime to the surface of the carpet where it can be easily extracted. Chem-Dry is ideal for commercial carpet cleaning because our process uses 80% less water than typical steam cleaning, so your carpet will dry in 1-2 hours instead of 1-2 days so you can get back to work and you won't have the risk of mold and mildew growth that often comes with using an excessive amount of water.
With commercial carpet cleaning from Chem-Dry by Kevin Jones, carpets stay cleaner longer and promote a healthier working and business environment for your customers and employees by removing 98% allergens.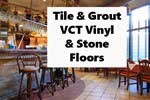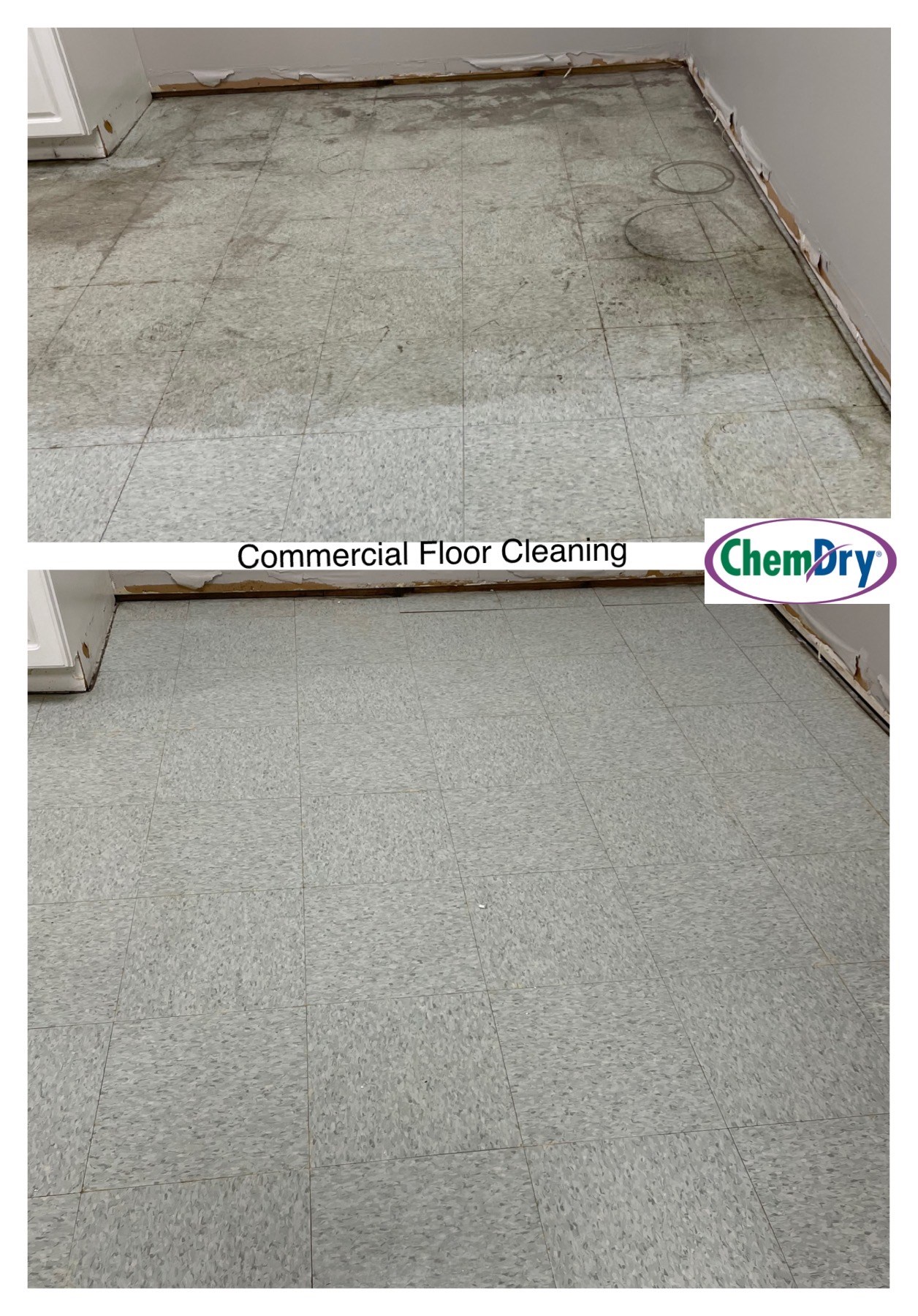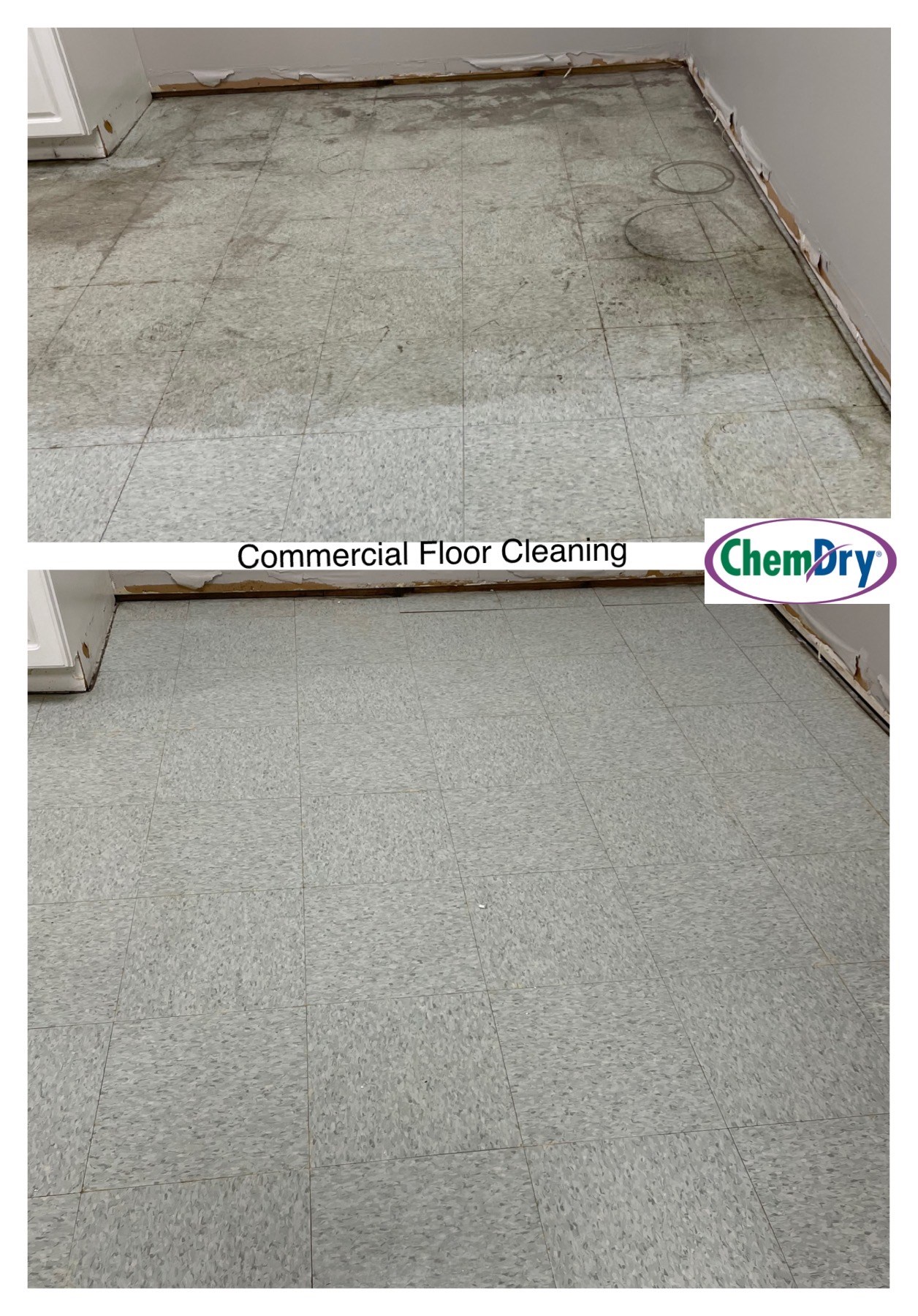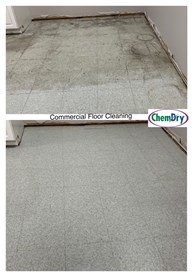 Chem-Dry can clean your tile & grout, VCT (vinyl) flooring, and stone floors throughout your business. Our technicians use specialized cleaning solutions as well as powerful deep-cleaning extraction equipment to remove the dirt and build-up, increasing its longevity and refreshing the look of your facilities.
For Tile & Grout floors, we use a hot, high-pressure system that leaves your Tile & Grout sparkling clean. Vinyl Composite Tile cleaning will remove old layers of polish and cut through tough layers of old floor finishes and cleaners that have dulled your floors over the years. With a low odor, it is not only effective, but has less discomfort for you. After stripping your floor, we will apply a very durable Finish. The finish is scratch and scuff resistant making it a great investment for business' with VCT flooring.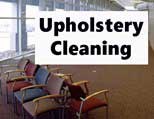 Desk chairs, sofas, partitions and other upholstered furniture in a business environment receive a lot of use. Chem-Dry by Kevin Jones'commercial upholstery cleaning will have your corporate furniture looking like new. Our green-certified cleaner – engineered to be used with all kinds of upholstery– is safe and non-toxic. Similar to our commercial carpet cleaning process, Chem-Dry's carbonating process for upholstery lifts dirt and soil to the surface of your commercial upholstery fabric with less water. This means that your corporate upholstery dries faster and stays cleaner longer while removing 98% allergens.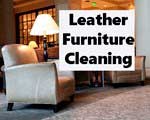 Leather furniture is an investment for your business and requires proper care to prevent premature aging and drying. Chem-Dry of Michiana's leather care specialists have the expertise to clean and restore your company's leather furniture to protect it against spills and dirt, replenish the moisture it needs and restore its clean, healthy luster.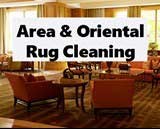 Area rugs are a great addition to your lobby, hallways and other spaces. However, they are usually placed in heavily traffic areas and can become dirty quickly. Chem-Dry professionals are trained to clean virtually all types of rugs, from Oriental to Persian.
We use specialized tools and equipment designed for whatever kind of rug you have, including synthetic, wool, cotton, silk and many other types. Our effective, yet gentle, area and oriental rug cleaning and drying process preserves the dye within the fibers of your rug, leaving the colors of your rug vibrant and fresh. And because our cleaning products don't leave any dirt-attracting residue, your rugs stay cleaner longer.